*Enrichment Studies utilizes affiliate links*
Have you gotten into the adult coloring craze?  🙂  So many people are discovering how relaxing and fun it is to spend some time on a simple creative pursuit like coloring. I love it for older kids AND grown-ups.  I think it's especially great for something to do together while listening to classical music selections.  Don't you agree?
Today I've got some great coloring goodies for you to help you get started or keep you going.
First, I've got a FREE coloring book for you to download today!  It's called Lollipop Trees and it has some great, relaxing designs included.  Simply click the image to download.
Next,  did you know that you can get FREE coloring pages each month from Color Monthly?  It's true!
Color Monthly will send you 5 free printable coloring pages each month, PLUS you can take advantage of additional offers if you choose to.  Sign up is FREE!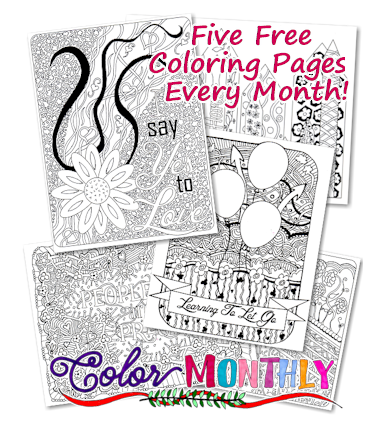 Finally, I've put together a huge assortment of 100 coloring books for you to check out.  These are perfect for a gift for yourself or for your loved ones! You are sure to find something that is a perfect fit for your interests.
1. Adult Coloring Book: Stress Relieving Patterns – $8.94
2. A Coloring Book for Adults Featuring Mandalas and Henna Inspired Flowers, Animals, and Paisley Patterns – $5.87
3. Adult Coloring Book: Stress Relieving Animal Designs – $9.28
4. Secret Garden: An Inky Treasure Hunt and Coloring Book – $9.57
5. Enchanted Forest: An Inky Quest & Coloring Book – $9.57
6. Detailed Designs and Beautiful Patterns – $7.99
7. Balance (Angie's Extreme Stress Menders Volume 1) – $8.49
8. Creative Haven Owls Coloring Book – $3.26
9. Adult Coloring Book: Butterflies and Flowers – $6.29
10. Creative Haven Creative Cats Coloring Book – $3.71
11. Art Nouveau Animal Designs Coloring Book – $3.86
12. Color Me Calm: 100 Coloring Templates for Meditation and Relaxation – $10.19
13. Harry Potter Coloring Book – $9.20
14. Creative Coloring Inspirations: Art Activity Pages to Relax and Enjoy – $6.57
15. Lost Ocean: An Inky Adventure and Coloring Book – $10.17
16. Mystical Mandala Coloring Book – $3.28
17. Adult Coloring Book: Stress Relieving Patterns Volume 2 – $11.69
18. Adult Coloring Book: Ocean Animal Patterns – $11.68
19. Creative Haven Entangled Coloring Book – $3.96
20. Coloring Books for Grownups: Dia de los Muertos – $6.99
21. The Time Garden: A Magical Journey and Coloring Book – $8.79
22. The Calm Coloring Book – $7.18
23. Beautiful Relaxation: Coloring Book for Everyone – $6.23
24. Beauty in the Bible: Adult Coloring Book – $10.79
25. Color Me Happy: 100 Coloring Templates That Will Make You Smile – $13.19
26. Paisley Designs Coloring Book – $3.59
27. Home for the Holidays: A Hand-Crafted Adult Coloring Book– $9.76
28. Fanciful Faces Coloring Book – $5.99
29. Whimsical Gardens Coloring Book – $5.17
30. A Coloring Book with a Hidden Picture Twist – $4.56
31. The Official A Game of Thrones Coloring Book – $10.17
32. "Today Is Going To Be A Great Day" Inspirational Adult Coloring Book – $7.99
33. Animal Kingdom: Color Me, Draw Me – $10.67
34. Tropical World: A Coloring Book Adventure – $8.22
35. I Love My Hair: A Coloring Book of Braids, Coils, and Doodle Dos – $10.87
36. Awesome Animals: A Stress Management Coloring Book For Adults – $8.99
37. Color the Psalms: An Adult Coloring Book for Your Soul – $9.99
38. Creative Haven NatureScapes Coloring Book – $5.99
39. The Affirmations Coloring Book – $11.74
40. Love You MOM: doodle & dream: A beautiful and inspiring adult coloring book for Moms everywhere – $7.99
41. Awesome Animals Volume 2: A Stress Management Coloring Book For Adults – $8.99
42. Outside the Lines: An Artists' Coloring Book for Giant Imaginations – $12.46
43. Fantastic Cities: A Coloring Book of Amazing Places Real and Imagined – $10.92
44. Mandala Coloring Book: Stress Relieving Patterns – $6.29
45. Creative Haven Christmas Trees Coloring Book – $4.65
46. Disney Princess: 100 Images to Inspire Creativity and Relaxation – $9.71
47. Floral Bouquets Coloring Book – $3.59
48. The Official Outlander Coloring Book – $10.80
49. Doodle Invasion: Zifflin's Coloring Book (Volume 1) – $9.65
50. An Adult Coloring Book: Wild and Free – $8.49
51. Midnight Forest Coloring Book: Animal Designs on a Dramatic Black Background – $5.99
52. Faith in Color: An Adult Coloring Book
53. Colorama Coloring Book for Adults , Create Something Wonderful & Relax – $14.79
54. Steampunk Fashions Coloring Book– $5.21
55. Goddesses Coloring Book – $2.87
56. The Coloring Cafe-Volume One: A Coloring Book for Grown-Up Girls – $8.99
57. The Mindfulness Coloring Book: Anti-Stress Art Therapy for Busy People – $9.19
58. Creative Haven Dimensions Coloring Book – $5.99
59. The Eclectic Owl: An Adult Coloring Book – $5.39
60. Adult Coloring Books: A Coloring Book for Adults Featuring Stress Relieving Patterns and Intricate Doodles – $7.99
61. Enchanting English Garden: An Inkcredible Scavenger Hunt and Coloring Book – $13.46
62. Really RELAXING Colouring Book 2: Colour Me Calm – $6.95
63. Creative Haven Snowflake Mandalas Coloring Book – $5.17
64. Joyful Designs Adult Coloring Book – $5.93
65. Adult Coloring Book: Relaxation Templates for Meditation and Calming – $6.99
66. Coloring Books For Grown-Ups: Dia De Los Muertos: Sugar Skulls Coloring Pages – $6.99
67. 35 Mandala Designs: An Adult Coloring Book – $6.29
68. Coloring Book for Adults with Patterns, Henna Flowers and Mandala – $3.99
69. Enjoy The Most Beautiful Landscapes Coloring Book For Adults As An Relaxing Activity and Stress Relief – $4.12
70. Creative Haven Modern Tattoo Designs Coloring Book – $5.39
71. Christmas Designs Adult Coloring Book – $7.56
72. Adult Coloring Book: Stress Relieving Animal Designs Volume 2 – $9.57
73. Simple Blessings: Coloring Designs to Encourage Your Heart – $9.00
74. Posh Adult Coloring Book: Pretty Designs for Fun & Relaxation – $7.92
75. Christmas Coloring Book for Adults – $6.59
76. Centered Angie's Extreme Stress Menders Volume 2 – $10.76
77. A Collection of Coloring Books for Adults; Featuring Mandalas, Flowers, and Geometric Designs – $7.99
78. The World's Best Mandala Coloring Book: A Stress Management Coloring Book For Adults – $8.95
79. Godey's Fashions Coloring Book – $2.49
80. Butterflies Coloring Book – $3.88
81. Beautiful Designs and Patterns Adult Coloring Book – $7.19
82. Adult Coloring Book: Stress Relieving Cats – $10.79
83. Happy Campers Coloring Book – $8.99
84. Adult Coloring Books: A coloring Books for Adults Featuring Over 45 Highly Detailed Designs & Beautiful Patterns – $8.30
85. Color Me Mindful: Underwater – $8.58
86. Cats & Quilts: Adult Coloring Book – $9.57
87. The Art of Nature Coloring Book: 60 Illustrations Inspired by Vintage Botanical and Scientific Prints – $12.88
88. Wonderful World Of Horses Coloring Book – $3.40
89. Owls Coloring Book – $3.09
90. The Victorian House Coloring Book – $4.99
91. Doodle Fusion: Zifflin's Coloring Book (Volume 2) – $11.16
92. Dream Catcher: A Soul Bird's Journey – $7.99
93. Angels Coloring Book – $3.15
94. Wow: Angie's Extreme Coloring Books Volume 1 – $10.76
95. Creative Haven Zenscapes Coloring Book – $5.99
96. Mermaids – Calm Ocean Coloring Collection – $9.95
97. Creative Haven Vintage Christmas Greetings Coloring Book – $5.17
98. Adults Who Color Henna Art: An Adult Coloring Book – $7.99
99. The Language of Flowers Coloring Book – $3.99
100. The Cat Lovers Coloring Book – $3.99